Those living in warmer climates can enjoy a longer season in the pool. If you live in a colder or wetter climate, consider an enclosure or pool heater to allow you to use the pool for longer each year. Your local time can meet this virtual requirement if you plan to use your pool for more than a month or two each year.
If you have the budget for it, consider an indoor pool, especially if you live in an area that will severely limit your ability to use the pool year-round. A swimming pool covers is the only way to ensure a pool that can be used every day of the year, even though it is the most expensive option.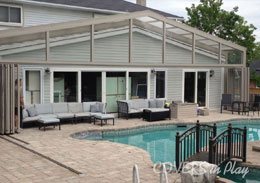 The local climate also influences the design itself. Concrete pools, for example, are said to perform better in areas with very high summer temperatures or large floors but can crack during very cold winters. If your area experiences freezing temperatures, the concrete pool will need to be reinforced with steel, which can increase overall construction costs.
Fiberglass enclosure is flexible, making it a good choice for earthquake-prone areas. Vinyl liner pools are often chosen for areas of the country that get chilly during the winter months.
Swimming pools are not only expensive to build, but also to maintain. Embedding energy-saving features can save you time and money. This includes setting up your pump and timer lights and covering your pool with fences or covers when not in use.
Consider whether you want your pool to stay full and warm in winter, or save on heating bills by draining it in winter. There are energy costs associated with managing a pool throughout the year, including the purchase of chemicals and increases in your water and electricity bills.